YOUR INVESTMENT IN BRINGING AWARENESS TO THE SMALL BUSINESS COMMUNITY
HAS AN IMMEDIATE AND LASTING IMPACT!
By partnering with Shop Local Augusta your organization will join the tradition of building community, and boosting the locally owned, small business economy. SLA was created with the mission to connect and support the many small locally owned businesses in the CSRA to create a local and global impact.
Through partnerships, our sponsors work with SLA to help expand our visibility while investing in our community and building their brand recognition.
Thank you to all of our sponsors for your continued support!
SPONSORSHIP OPPORTUNITIES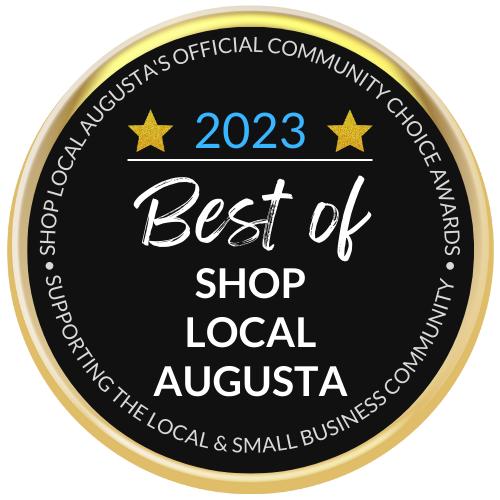 BEST OF SHOP LOCAL AUGUSTA 2023
Be a sponsor for the Best of Shop Local Augusta community survey and enjoy the following benefits:
GOLD LEVEL SPONSORSHIP
$1000
SILVER LEVEL SPONSORSHIP
$600)
Sponsor placement (logo) on Best of Shop Local Augusta 2023 merchandise (shirts and tote bags)
Sponsor placement (business name) on Best of Shop Local Augusta 2023 Merchandise
Featured on Sponsor section of the Best of Shop Local Augusta winner listing page (for the sponsorship year)
Featured in weekly Shop Local Augusta newsletter to 7500+ email subscribers
BEST OF SHOP LOCAL AUGUSTA 2023
Be a sponsor for the Best of Shop Local Augusta community survey and enjoy the following benefits:
GOLD LEVEL SPONSORSHIP
$1000
SILVER LEVEL SPONSORSHIP
$600)
Sponsor placement (logo) on Best of Shop Local Augusta 2023 merchandise (shirts and tote bags)
Sponsor placement (business name) on Best of Shop Local Augusta 2023 Merchandise
Featured on Sponsor section of the Best of Shop Local Augusta winner listing page
*for sponsorship year
Mentioned in weekly Shop Local Augusta newsletter over 7500 local email subscribers